"It's still school," said Mom patiently. She looked concerned but in the way of someone who is trying not to look concerned. Like inside she was telling herself, "This is just a phase. Kate is just testing the boundaries."
"I know…" I said slowly. "But…"
"We can talk about it," said Mom.
We were supposed to be able to talk about anything, as long as I brought it up in a polite, mature way. If I just said, "But everyone else is going to the movie theater!" then Mom would say, "You are not everyone else. And I said no." She hated movie theaters. She hated movies. And television. They were a waste of time. We didn't watch TV. Not at all.
Emily was going to school. After we'd been homeschooled our whole lives. But she was allowed to watch some TV. And to eat Lucky Charms. She was practically a school kid anyway. No. That wasn't true. She was supposed to eat healthy, but Christine let her pick out one treat every time they went to the supermarket. And she picked Lucky Charms. Sometimes when I stayed over Emily's house, all I wanted to do was eat Lucky Charms and watch TV. I tried to be social, and play with the plastic ponies and all of her dolls, but it was like my eyes were stuck. I couldn't look away from the screen, where everything was happening at once. I felt guilty, like I was stealing something.
When Emily came over our house, which was usually when her parents came over to have dinner with Mom and Dad, we went up to my room and played college. We were in a dorm room together, and we both had phones that were always ringing because we were so popular. We both had boyfriends, and most of the game focused on them. Our boyfriends were identical blond twins named Patrick and James. I had a photo album with a sample photo in the front of a blond boy with gelled hair. It was the only photo on hand of a boy we didn't know. I didn't like boys with blond hair as much as boys with dark hair, but I let it go. After all, Patrick was always calling to ask me to go on dates. The real boy we both liked was Jonathan Simon, the son of the rabbi at my synagogue. Emily had only met Jonathan once, but we both liked him the same amount because he was "the cutest boy in the world."
About the time that Emily started school, we were building a new house. Before that, Dad and I drove around looking at properties all the time. Mom wanted a forest and a stream. When she was a girl, there was a stream by the back of her house, and she used to play in it almost every day. She said she caught salamanders and crayfish in it. She wanted her kids to be able to catch them too. Mom thought being a kid was all about playing outside, especially in streams. Dad said, "We'd probably find a place a lot quicker if there didn't need to be a stream on it." But we only looked at properties with streams. It took forty-five minutes to drive from home to the properties, because they were all in or by Princeton, which was where we were going to move.
Princeton had lots of culture, unlike home, where no one could be completely sure, but Dad kept saying our neighbors had been the ones who'd cut the swastika in the cornfield down the street. The neighbors on the other side were black. The man was a police officer. Their mailbox got bashed in a few times. Dad said it was "the Riley boys." I could never tell how many of the Riley boys there were, and they all looked the same to me the few times I caught a glimpse of them on their dirt bikes or out in the woods. Tall, skinny, with really short blond hair. I was instinctively scared of them. Princeton was where the music lessons were, and the university with all its free lectures. We were already driving up there two or three times a week. Dad made fun of the Princeton people. He said they were snooty, and turned up their noses at everything. He had a Princeton voice that he used to do impressions of Princeton people. "I'm from Princeton!" he'd said, really high, rolling the r. "I have to go play tennis on my private court!" Dad secretly wanted a private tennis court too, because he loved playing tennis.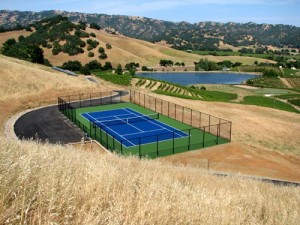 (You know you've arrived when you own this. source)
The property Dad bought for our new house was on Mountain View Road. The houses were very far apart, and set back in the trees, or behind sloping lawns. The Waldorf school, where Emily went, was one street over. I told her I'd follow the stream to her all the time, and we'd hang out.
After we moved in, I followed the stream, once, through the whole forest, and came out behind the school, but it was quiet, and I realized I couldn't just walk in and ask for her. So I turned around and went home.
Emily told me later that on her first day of school, she introduced herself to everyone the way she'd learned how: "Hi, I'm Emily, it's nice to meet you, what's your name?" When she said this to another girl, the girl burst out laughing and said, "Yeah, we know." She felt desperate to make friends, and it was going to be hard, because everyone already seemed to know exactly who their friends were.
Months later, Christine came over with Emily after picking her up from school. They were just stopping by, to say congratulations on our new home. For some reason, Emily didn't come inside. I was standing at the red front door, holding it open, and she was standing on the  front step, wearing a knit Gap sweater turned inside out with the G backwards and denim shorts over argyle tights. She said the kids at Waldorf talked about our house. They had watched it being built. She got to say that her best friend lived there, and everyone thought that was cool. When she told me that, I couldn't believe it. There was something strange about these people who I had never met wondering about me. For some reason, it suddenly occurred to me that I was moving into a different world, full of different people. It was strange because Emily's world and my world were so close that the people in hers could talk about mine, but they weren't the same world anymore. They were completely separate. I knew Emily didn't really think I was her best friend anymore. She was just saying it to be polite.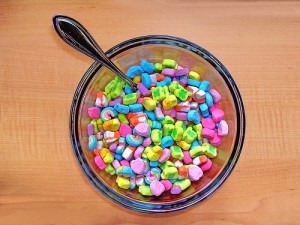 (source)