Sometimes I forget how magical my childhood was.
Sometimes I'm reminded.
Over Thanksgiving, which Bear and I spent at my parents' house, I was going through some old stuff. A wooden trunk, brimming with watercolor paintings, cloth-bound journals, felt boots I'd made, and the slender, bleached  deer jawbones I'd found in the woods.
I used to imagine, as a child, that a portal might open up in the forest, and I could step through, into another world. In that other world, I might meet wandering mages and disgraced royals, passing through the great forest in belted tunics and doe-skin breeches, carrying staffs and swords and hidden daggers. Wearing talismans with strange symbols.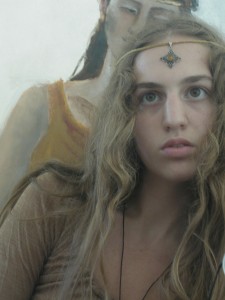 The trunk in my childhood bedroom is a little like a portal. Opening it, I was overwhelmed. I stepped back into another world. I remembered, all at once.
I had such a weird childhood. So weird that sometimes my mind works really hard at making it appear normal. Occasionally, it succeeds, and I am able to think of myself the way I think of other people. I was a kid. I liked boys. I got in fights with my girlfriends. I tied my sheets together and climbed out my window. Like everyone else. OK, maybe not everyone does that last thing. But still. I was dorky. I read fantasy novels all day. I went to college like everyone else. I got good grades. I went out into the adult world of New York City. I worked. I tried to find my way. There. Normal.
But it's surprisingly easy to forget the way it actually was.
The way I dreamed. All the time.
The way I lost myself so naturally in worlds inside my mind-– so much so that I could see the whole world, outside my mind, as full of magic and potential. The way I could be alone in the forest for hours, drinking it in, imagining rich scenes and later writing them and painting them and drawing maps and crafting outfits. The way there was so much room, just to be, and so much room to be anything I felt like.
My childhood, it sometimes occurs to me, was incredibly spacious.
There's something about fantasy novels and scenarios that really appeals to a lot of kids. Especially kids who don't fit in. I dated a nerdy  guy who by then was getting his PhD, and he told me about how, as a kid, he'd gotten picked on a lot at school. His skin was a different color than a lot of his peers in the neighborhood. Sometimes, he got beaten up. He told me that he used to walk the perimeter of the school's fenced-in yard at recess, making up stories in his head and repeating them over and over. The stories were about great kings who lived in a Tolkienesque world of good and evil and dramatic mountain ranges. He felt like these kings were his friends. He felt like these stories were the only thing that got him through the day sometimes. I know a girl who is still obsessed with dragons and fairies, even though she's in her mid-teens now. Her peers think she's incredibly weird. Over the years, I've watched her embrace the weirdness, dressing defiantly in fantasy costumes, defining herself as a freak who doesn't care what anyone thinks. She can't very well just become a normal girl now. It's too late. Everyone knows she likes dragons too much. Recently, she had to change schools because things got so bad socially.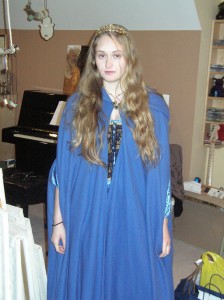 (it wasn't just me….some of my friends loved to dress like wandering princess warrior mages, too)
The dorky kids can LARP and play D&D, but I'm not sure I would've been one of them, if I'd gone to school. Like I've said before, I'm not sure how dorky I actually am. My guess: not very.
But I was lucky. Disappearing into my fantasy worlds wasn't weird and dorky and lame. It didn't mark me as a freak or prove I couldn't cope. No one even had to comment on it. And so it quietly made me who I am, without me having to defend it or fight for it or be cut off from it in a lurching transition to normalcy. I didn't have to choose.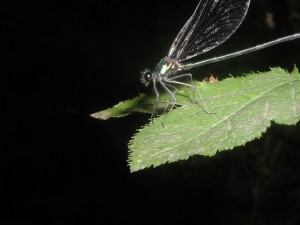 (I spent hours following this dragonfly, to get this shot)
Because there was so much time. There was time for studying the Civil War and reading historical fiction and hanging out with friends and competing in piano competitions and composing music and cooking dinner with my brother, and there was also time for magic. For letting my mind wander. For letting my breath get taken away by the sweetness of nature– the mystery of the forest, the promise of the horizon.
I forget sometimes– here in New York City, where I have learned to elbow expressionlessly through throngs of people on a subway platform, wait in a forty-minute line at Trader Joe's without wincing, read all of my books on my phone, in transit, and keep my lovely long white curtains closed, because outside the window there is another brick building rather than distance. It's not that I don't love this place. I love it more than I could ever have imagined. I love the complicatedness, the history packed into every square foot, the compromises that people make automatically that make them more interesting, the sense that most of us really want to be here, the sense that we're in it together, the rumbling subway ride to see so many nearby fascinating people and things. But sometimes I forget the way I used to be able to interact with a stream, for hours, alone, letting my mind play.
Often I am tangled in self-doubt and sharp-toothed ambition. Come on come on come on, says the voice in my head. Succeed!! Make something of yourself! Do it now! Get ahead!
I forget that I am, essentially, a dreamer. That I always have been.
The proof is in that trunk.
I opened it, and as Bear wandered off, a little bored, I stared inside, and I remembered.