First of all, please check out my piece over on The Forward! It's about being a Jewish homeschooler. And, unrelatedly, I also have a piece on A Practical Wedding, which I'm pretty proud of.
So last night I went to this very chic invitation-only New York book party at an agent's penthouse apartment in the East Village. The kitchen cabinets were lacquered and cherry red, and there didn't seem to be much furniture, which gave me the sense that it might be uncool to have furniture.
All of the women were wearing stilettos and dramatic tops that bared significant amounts of skin. They were all very thin. Sort of like the women would be in a stereotype of a fashionable NYC book party.
I wasn't personally invited, but my friend Daniel, who I met through this blog, was, and he brought me along. I wore a little black dress (of course?) with a big brown belt and my brown leather, clunky high-heeled boots, which I'd thought were very sexy up until seeing the other women's shoes. I had a purple shawl thing over the little black dress, because I am weirdly, persistently too modest for this city, and I was just about the most conservatively dressed woman in the room, except for a much older woman, with elegant white hair, who came in on her husband's arm. Even she was wearing sexy heels.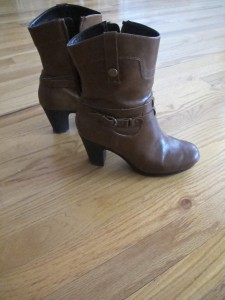 We were all there to celebrate the launch of a book called Little Bets, by Peter Sims.
The book is about, roughly, how people have to let themselves make mistakes in order to succeed. How all of these famous people who Peter has interviewed (the people behind Pixar, Chris Rock, Jeff Bezos, the guy who started Starbucks, etc) kept trying, and trying, much like Thomas Edison, until they figured out something that worked.
I like the message. Failure is productive, if you look at it systematically. Dedication, creativity, and enthusiasm are more important than blatant talent or obvious genius. In fact, the things people interpret as obvious genius are often just the product of a lot of dedication and hard work. Yay! There's hope for everyone!
Sims quotes Dr. Carol Dweck a lot. She talks how people's approaches to learning and failure can generally be broken down into two groups: fixed mind-sets and growth mind-sets. People with a fixed mind-set get intimidated by failure and feel stupid and bad. People with a growth mind-set feel challenged and motivated by failure. Fixed mind-set people get distracted by grades and small measures of achievement. Growth mind-set people don't. They move forward.
But no one likes to talk about how maybe, when people are in an environment that MAKES grades and small measures really, really important, they might start thinking that they're really, really important. Or if they mention it, they don't mention that maybe, maybe, the way that school is set up is basically flawed, if you agree with the rest of this stuff. And that you can't really have school (as school works now) without encouraging fixed-mindedness. Or whatever term they want to use.
Which feels awkward to me, the lone homeschooler, reading this stuff.
I mean, homeschoolers, perhaps especially unschoolers, are all over little bets, aren't we? Learning as a natural process. Learning that includes plenty of growthful mistakes. Ungraded learning. When I went to college, I was surprised by how little I learned and how much I memorized. I was always nervous about a test or a paper. I was always trying to get things exactly right. It was strange and foreign and seemed kind of stupid, but it was what I had to do. And the funny thing is, college is often the part of most people's education where they have the most room to be creative. How would the average American high school experience have felt, if I'd sat in on a few days of classes? Maybe it would've pleasantly surprised me. But more likely, I wouldn't have been able to identify what was happening there as a productive form of learning. Sorry. Cold hard truth.
It's funny for me, to go to a posh New York book party to celebrate an idea that so much of my education was based on. I mean, good! I'm glad Peter Sims is talking about it! But I wonder if people will think to apply it to the most basic aspects of our lives. Usually, they don't. At least, not yet.
Towards the end of my time at the party, four blond models came in, wearing truly tiny tops with jeweled straps and bright splashes of lipstick. They must've been twenty or twenty-one. Maybe nineteen. Maybe I'm old now and I can't tell.
The night was complete. What's a fashionable NYC party for a book about the way successful people think without some glittering, braless models?
I'll leave you to answer that question on your own.