My mom has really been pretty cool about me writing about my life online. Sometimes she makes a comment like, "One day you'll have kids and they'll grow up and complain about you on the internet. Then you'll understand." But mostly it's fine.
I mean, let's get real. That's not going to happen. By the time my eventual kids grow up, it definitely won't be called the internet.
And I try not to complain. Even though, honestly, sometimes I get the urge.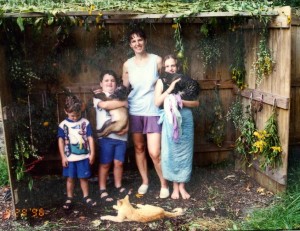 (I mean, really, who lets their daughter go around wearing silk scarves as an entire outfit? I'm kidding, that was a great outfit.)
One of the things that's confusing about homeschooling is that it is personal and educational at the same time. This shouldn't be confusing. It should, in my not-so-humble opinion, be way education obviously works. But because education and relationships, especially familial relationships, have been constructed as surprisingly separate concepts in this society, the thought of mixing the two can feel convoluted and weird.
When I write about my education, I am also writing about my family. I can't help it. They're inseparable. My education is wrapped up in personalities and interpersonal dynamics and my relationships with the people most closely related to me. It's not exclusive to these things. I give myself a lot of credit for my education. I did a lot on my own. I give my community a lot of credit for my education– As a teenager especially, I was always outside the home, learning from/with mentors and groups. I give the world a lot of credit for my education– it's a seriously educational place.
But it's hard to talk about homeschooling without talking about my mom, who started it all, and who was there, every day, for all of it.
My mom doesn't really like to be talked about. I mean, unless I'm saying, "My mom is the most amazing woman in the whole world. "
It's her life, she tells me. It's private. It's personal.
"But," I say, "you made this radical decision, educationally. You opened yourself up to conversations like this one."
"It didn't feel radical," she says. "It felt obvious."
"Ok, ok, but it WAS radical."
"Not really. People were accepting. There were other homeschoolers."
"Not that many!"
"Plenty."
"Not that many!"
"It made perfect sense. It wasn't radical. It was normal. It was just our lives."
Well, that's true. It was totally normal. When I first realized as a kid that other kids had to go to school every day, I felt so sorry for them. I felt so lucky to be able to live a normal life, while they had to get up at some unreasonable hour every morning and go do things a random grownup told them to do all day. No thanks.
But my education was radical, because not very many people do it. And when you do something really different with your kids' lives, you can probably expect them to want to talk about it. Or write about it. Or tell people about it. Or at least be interested in it.
Which leads us to the title problem: whose homeschooling is it?
Is it my mom's? Her life was impacted by it at least as much as mine. Is it mine? Is it our family's property? Is it owned by the general discourse on education?
It is all of the above.
"I remind myself that you and I have different perspectives about your childhood," my mom tells me. "We have different realities."
There we have the crux of the parent/child relationship. And sitting on top of it, we have homeschooling.
My childhood was my education. But like all childhoods, it isn't only mine. It was a family effort. I try to be respectful when I write about my family. I also want to be honest, because I think it's important to be honest when you're talking about homeschooling, since it's still pretty mysterious in the world's opinion. It's all about finding a balance, I guess, like everything else.
But maybe I really won't understand until my kids start writing publically about how I raised them. That'll be interesting, I'm sure.
Totally not teaching them how to read or write.
That was a joke. They'd learn anyway.