This is a guest post from an awesome young woman who didn't go to school in the UK. You can check out her blog here.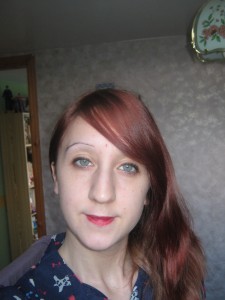 Hello! My name's Kayleigh, and I live in the United Kingdom; in the north of England, in a county called Yorkshire where it rains most of the time and has a lot of pretty countryside. I was home educated all my life up until the age of 16, and the awesome Kate has asked me to contribute to her blog to share my experience of what it's like not going to school here in the UK.
The law in the United Kingdom states that children must be given a full-time education suited to their age and ability, whether that be at school 'or otherwise'. So long as parents can prove their children are receiving a suitable full-time education at home, it is perfectly legal. Mostly, here in the UK we refer to what Kate calls unschooling, as home education. I'm not entirely sure why the term unschooling hasn't caught on here too as it's much less of a mouthful!
The education authorities for the local area are obliged to keep track of any home educating families they are aware of, and carry out regular home visits to ensure the children are learning. Here is where it sometimes becomes a little sticky. The officers that carry out these visits are generally the same people that carry out inspections on schools, so they frequently have a very narrow view of how to determine if a child is learning. Particularly with unschooling methods, it's not always easy for parents to provide documentary evidence that their child is learning what the government feels is appropriate for that age. How can you prove in written form that your child has a good knowledge of basic mathematics, when he or she only uses their skills in the context of some other task, e.g. baking, cooking, helping with the grocery shopping?
The local authorities have varying stances on home education, depending on what area of the country you happen to live in; some have been known to use threats of social services to return children to school, while others are extremely positive and open-minded, inviting families for regular coffee mornings to discuss how they can improve things! It really is a postcode lottery. I have even seen conversations take place on Facebook where parents recommend the best places in the country to move to if they want to have a good relationship with the local authorities!
The attitude of the general public towards home education is a little more positive than that of the local authorities – or maybe the public are just more polite about their preconceptions (probably the latter). In my experience, the majority of people I've met have been curious about my education, rather than outright dismissive, although I won't deny I have heard some rather negative comments as well.
There are almost as many different methods of home educating in the UK as there are families that home educate – as, I would imagine, in the USA. There are very few families that do so for religious reasons; the most common reason is simply a lack of faith in the school system or the structured method of teaching in schools. My mother decided to home educate me and my younger sister partly because of negative experiences in her childhood and those of my two older sisters, but also partly because of her growing disillusionment with the schools themselves.
Consequently, my experience was a very unstructured childhood. The only formal lessons I had were private tutoring in maths (because I'd rather wrench my own arm off with a spoon than have anything to do with numbers, and that feeling remains with me to this day), and my many 'out-of-school' activities such as dancing and horse riding. We were constantly acquiring books and more often than not I had my head in one of them. I would also spend a lot of time simply playing with my toys; I realise now that my poor mother must have been worried that I wasn't actually 'learning' anything, but we both know now with hindsight that I was learning in my own way.
There was, however, a very active local community of home educating families. We would frequently get together to go on organised trips to local museums and sights, or hire out rooms and arrange all sorts of interesting things. We once had a local archaeologist come in with some specimens he had unearthed himself, which led to me deciding at the age of 9 that I wanted to be an archaeologist. Unfortunately, I later felt rather conflicted, as the following month the archaeologist's wife came to visit with her collection of snakes, and I struggled to work out how I could combine a love of archaeology and raising snakes into a career. Training snakes to assist on digs? It was a challenge that took some while to overcome, and I eventually gave up and discovered horses instead.
So. Horses. Sorry, I still get a bit distracted when they're mentioned, my eyes cloud over with visions of black stallions galloping across a hillside or something equally poetic. At the age of 16, I left the world of home education and went to college to study horse management. I should say at this point that the UK 'college' is not the same as what I understand it to mean in the USA; that is, the US colleges are our universities, while our colleges generally offer courses in academic and vocational subjects to 16-18 year-olds. I made the choice not to go on to university, however a lot of home educated young people (I feel old saying that) do go on to study for a degree. In my experience, not many of them go straight to university from being home educated; a lot of people go to college at 16 to take the exams usually required, however there are others who take distance courses in order to gain the necessary qualifications.
I often think that, had I attended school instead of being home educated, I would probably have gone onto university simply because it was the conventional path, regardless of whether it was the right thing for me personally. I am grateful that my unconventional upbringing has encouraged me to question the options available to me, rather than simply doing whatever is 'mainstream' – and I have applied this to all areas of my life. I am not afraid to admit that I had a brief period in my early teens where I desperately wanted to fit in (oh puberty, I'm so glad you're not a part of my life any more) and was reluctant to discuss home education, always wanting to be the same as everyone else. That set me back for a while, however I am pleased to say I have now turned myself around.
So, at the ripe old age of 24, I now work in an office job answering complaints. It's not hugely exciting but I tell myself I get to use my writing skills (not that I think the customers notice), plus it pays the bills and then some. When I finished college at 18, I figured I would rather go out into the world of full-time work straightaway than go to university, particularly as I was feeling a little directionless and wasn't sure what I wanted to do – might as well earn some pennies in the meantime! I definitely think I made the right decision; I'm not in a huge amount of debt, plus degrees over here have become hugely devalued due to the sheer number of people graduating every year, so there are people doing the same job as me who have had to study three years to get it.
While I still haven't figured out quite what I want to do for a career, I'm ok with that; I have a fulfilling life outside of my job and I have a few possible ideas germinating in my mind which I intend to put into action in the near future. My experience of home education or unschooling has helped me to develop my creativity and imaginative thinking; and, most importantly, I am never ever bored!