My cousin just sent me this article, and it was so beautiful I had to share it here. Emily Rapp writes about her relationship with her terminally ill son. She asks and answers the question "When your child doesn't have a future, how do you parent?"
OK, I don't want to be totally morbid, but the article reminded me of unschooling. And I realize that I shouldn't even be writing about this, because it's way too easy to be like, "Oh, so, unschooling is like parenting a kid who's going to die? Because you don't care about your kid's future at all?"
No. Not like that. But I thought of those kids in the Race To Nowhere documentary, who were saying stuff like, "I know I'm supposed to be good at all of this, but I don't know why…I know I have to get into a good college and then get a good job. But I don't think it really matters if I'm happy."
Parents are always saying, "The only thing I want is for my child to be happy." And that might be true. I don't know– I'm not a parent. I'll probably look back at this when I'm a parent and think, "You did not know anything about anything." But it seems to me that even if parents only want their kids to be happy, they are often talking about future happiness. As in, their kid will be happy because of all of the hard work that led to the success that led to the happiness.
People are clearly confused about happiness. That's why professors at Harvard are always writing new books about it, and those books are always becoming bestsellers. That's why the New York Times has so many articles about it. That's why we all talk about it. We're trying to figure it out. What the hell is it? Is it the same for everyone? Is it totally different? Do we have to work for it? How hard? What does that work look like? Do we even recognize it when we have it? Is it completely obvious? Does it involve delicious food? Or should we diet?
We all want to get to happiness, but we don't seem to know how. But somewhere along the line we collectively decided that for kids, getting to happiness meant putting in a lot of years of effort first. Starting with the right preschool.
In her essay about love and parenting, Emily Rapp writes about how incredibly fulfilling just being with her toddler son can be. I know all about this, because it's still one of my mom's favorite topics. She always loved to just be with her kids. To see what happened. To play.
Sometimes I catch myself getting seriously stressed out. I wrote about one time in particular here, on my other blog. I'm ambitious. I'm one of those people who has a hard time with weekends sometimes, because I want to get back to work. Maybe because as a kid, weekends were the same as every other day, and I was always busy with something I cared about. I get worked up. I think, "I'm not doing enough! I have to succeed!" And then I look at my husband and I think, "I have love. I have this whole other person, with a face, and ears, and big shoulders, and he loves me and I love him and I am so incredibly lucky to have that in my life." And it occurs to me that this is the only thing that can ever really matter.
And then I forget again. Because that's life.
But nonschooling is about reminding ourselves of the things that matter. Reminding ourselves that no one is really sure how to get to future happiness,  and no one is certain how much certain kinds of success contribute to it, but I think things might be better for everyone if we just spent more time being happy now. Kids, too. Kids' time and happiness is valuable, too.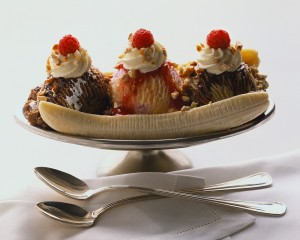 (There is a time and a place for dieting– but sometimes you just need a banana split to make you happy. I know I do. I had a dream about one the other night. Not even kidding)