Kate didn't go to preschool. And then she didn't go to kindergarten. And after that she didn't go to elementary school. Or middle school. Or high school, even. And then she went through a normal phase and went to both college (Rutgers) and graduate school (Columbia), during which time she ate an incredible number of bagels, to make up for all the kale and cracked wheat at home.
She is now twenty-five. She lives in Brooklyn with her husband of one year and a very new cat. She writes for The Huffington Post, the Frisky, Home Education Magazine, her other blog,  Eat the Damn Cake, and a very, very exclusive literary collection referred to by those in the know as "Kate's Journal." Her work has also appeared on/in Salon.com, the New York Times, Jezebel, Penelope Trunk's blog, AOL's front page, and in the Forward,  among others. She was once linked to by Forbes.com and it was really exciting. She was once almost interviewed by Good Morning America, and then it fell through and she was sad and also relieved. She also can be found singing in Hebrew at Congregation Kehilat Shalom in central NJ, where she has been lay cantor for almost half her life (she still gets nervous when there's a big crowd).
This is what she looks like: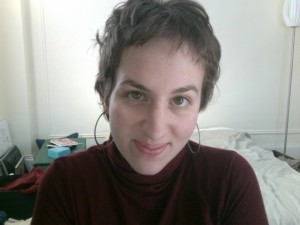 See? Pretty normal!
Oh, how deceptive appearances can be…