I think I've written before about the relationship between work and play that a lot of people believe in very firmly. I may have written about it embarrassingly recently, but I have a terrible memory and I don't feel like checking, because I'm really looking forward to talking about it now!
One of the biggest differences between going to school and not going to school is that when you go to school you have the summer off. Which sounds pretty great, right? Having a couple free months to do whatever you want. (Not that this always happens– plenty of kids I knew growing up were shipped off to camps and summer school programs.)
When you learn outside of school, there are no breaks.
And I don't mean that like "You will sit there and work on that calculus until you memorize every single rule in the book. I don't care if it takes you a year."
I mean, life isn't structured in terms of work and non-work, effort and relaxation. These things blend together.
Last night, I was on a call with Clark Aldrich, Lisa Nielsen, and Monika Hardy. We were talking with Steve Hargadon about unschooling. (Here's his Future of Education site, where Ken Robinson was also interviewed! Yes! I feel famous!) One of the listeners commented in the chat box that homeschooling  might not work very well, because what kid wants to learn when they could be watching TV? What kid wants to do work when they could be playing?
Bear has made this comment to me, too, when we talk about homeschooling our eventual kids. He remembers getting home from school and not feeling like doing any work at all. Home is a place where you chill out. Where you hang out. Where you get your homework done as fast as possible, so you can play a video game. Or you play the video game as long as possible until someone yells at you to do your homework.
But for me, home was a place where work and play were often exactly the same thing. And where summer wasn't an end or a beginning, but rather a continuation of all of the things I was doing anyway.
Learning is a constant process. We can't help but learn.
When people talk about improving education and keeping students at the proper level for their age, they talk about how kids who read a lot over the summer do much better when they return to school in the fall. So schools tend to have summer reading programs (once my brothers and I participated in one at our local library. We had an amazing time). Keeping kids engaged academically over the summer is a serious challenge that schools faced. So much is lost over that period, teachers and administrators lament.
In college, I was always completing assignments or memorizing flashcards, and I couldn't wait for summer. During the summer, I would try to write a book. I would remember what it felt like to work on something for fun. I would dread, very gently at the back of my mind, the beginning of the new semester. Not because I hated being in class so much (sometimes it was a lot of fun), but because it's practically impossible not to learn that you're supposed to look forward to summer and regard classes with irritation. It's practically impossible not to learn that work and play are separate activities that chase one another in a never-ending cycle, caught in a dichotomous, dependant loop.
We forget sometimes that you have to be taught that that loop exists. Because otherwise, it doesn't.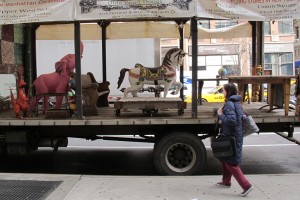 (My friend Elena in front of some work/play in action in NYC)
*  *  *
P.S. Brazen Careerist asked me to write a piece for them about college, and why it might not be the best idea ever. Maybe because they know I'm willing to say things that will really annoy people? Anyway, if you feel like reading it, click here.
P.P.S. The piece is not my favorite piece. I think the argument should be more complicated than I had time to make it. So maybe I wouldn't annoy as many people if I had another chance

P.P.P.S Is it really wimpy to put a disclaimer like that?