Note: Thank you everyone for the amazing comments on Katie's guest post! I am thrilled, reading them. I'm also kind of proud, because you guys are here, on my blog, being awesome and smart and eloquent. I know I can't take a huge amount of credit, but I am pretty tempted…

I want to write a response to the guest post, too, and to the question "what about everyone else?" But I'm running all over the country for three weeks, since Bear's new job doesn't start until the beginning of June, and we are trying to see all of the relatives we've missed, and some of the places we fantasize about. So that's my excuse. I'll do it when I get a chance. But for now, here's a post I wrote while waiting for a delayed flight in the Columbus airport: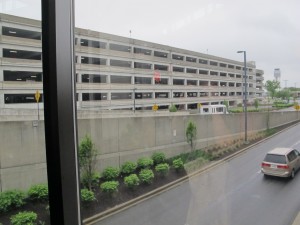 (view from the airport window)
No offense, Mom, but in a lot of ways, we were better homeschoolers than you. I know why. It's because we weren't scared.
As a kid, you aren't scared of messing up all the time. At least, I wasn't. I didn't spend a lot of time thinking about how I might not be acceptable, or I might fail, or I might not be as good as other kids at things. I knew I was awesome, and I had big goals, like playing Carnegie Hall at fourteen. I thought I was totally capable of that. I was going to publish a lot of books too. I thought the hardest part of getting published was writing the book. So I wrote the book.
My mom was worried that we might not get everything we needed. Parents are like that. They're always worrying about their kids. And when you're a homeschooling, or an unschooling parent, you might feel especially responsible, because, you know, you can't blame a lot of other people for stuff.
I think one of the best things about school is that it shifts blame. It's convenient like that. Whatever your kid is doing that's weird; they picked it up at school. If they don't do well in classes, it's because of their teachers.
And then I see parents who are still blaming themselves, even though they aren't even there with their kid, or their blaming themselves BECAUSE they aren't there, and life feels depressing, because they had such a perfect opportunity to not feel guilty and they missed it. Being a parent looks really hard. Oh my god.
But when you're a homeschooling parent, you're doing something weird already. You're already a weird parent, according to the world, and so you have to prove yourself, and you have to produce great kids who prove themselves and you by being obviously successful.
I mean, you don't really have to do that, but you might feel like you should. You might feel like all of these other people are looking through the living room window at your kids, to see what they're like at home. To see if they're smart and polite and talented and social.
The Today Show approached my mom three times when we were growing up. They wanted to come film in our home. They wanted to follow us around with cameras, and see what we were like. I thought it sounded like a lot of fun. She said no.
I thought it sounded like a lot of fun because I had nothing to be afraid of. So what, I was different? I was different and AMAZING.
One of the things my mom did wrong as a homeschooling parent was try to be there all the time. She wanted to make sure everything was OK, so she was almost always around, checking in, asking us what we were doing. Sometimes we were just playing with Beanie Babies or building a fort. You know what? Those are some of my best memories. Just hanging out with my brothers. She wanted to make sure we did more than that. And I'm glad she was there to encourage us to try other things, but I also know that she didn't have to worry as much as she did. We were actually fine. She could've been writing a novel on the side, disappearing for whole days into her office. We would've been happy to hang out undisturbed. We would've been fine. We would've been happier, really.
I don't want to sound mean, here. My mom is incredible. When something is difficult for me, I talk with her for four hours straight, until it feels easier. I tell her everything. I love her more than anything. I also think it's interesting to think about the things that I would do differently, homeschooling my future children. I think it's interesting to think about how her choices shaped my life.
I wonder how things will be when I am a homeschooling mom. Will I be less afraid? Will I be scared anyway? My mom was a pioneer. I am following a blazed trail. But no two unschooled trails are the same. That much I definitely know.
Life is strange in an uncharted wilderness of possibility. You anticipate chaos and lawlessness. You might find peace instead.