This is a guest post from Katie Traylor. She wrote to me a couple weeks ago with a concern about homeschooling. Her concern was so well articulated that I asked her to write this post. It's a concern, after all, that comes up a lot, and requires some discussion. Here she is: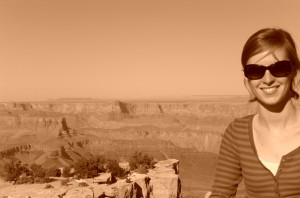 Homeschooling my (future) kids was not even on my radar a year ago.
My public school experience was mostly good, and I've grown up to be a huge supporter of the public education system. It is the reason why a child born to a poor, uneducated family can grow up to become a leader for social change, a successful businessperson, or an emergency room doctor.
I am such a firm believer in the power of public education that I want it to be my career. I want to be out there, day after day, making a difference for kids. But, due partially to circumstances beyond my control (the economy. yuck.) and partially to those within it (moving states two times in three years) I have not yet had an opportunity to do that. I am still teaching-jobless, three years after college graduation.
Because of this, and other changes in my life, (getting engaged + getting older = beginning to think of having kids as something that is actually going to happen, not just an abstract idea) my perspective on the public education system has started to shift. Instead of looking at it only as a future teacher, and thinking of all the good I can do, I have started to see things from a future parent's perspective, and some of the potentially bad things are becoming more obvious.
The future mom in me says, "Why would I put my kids in the public school system, with it's many, many problems, when I know I could do so much more for them on my own?" And that totally makes sense.
But then the teacher in me speaks up, "Sure, homeschooling would be totally awesome for my kids. But what about everybody else's kids?" Everyone else's kids are, after all, the reason I wanted to be a teacher in the first place.
That is my BIG ISSUE.
Because the parents who homeschool their kids are those who are have the means, the desire, the education, and the time to do so. What about parents who are not invested in their kids' education, or who have to work two or three jobs just to make ends meet? What about parents who don't speak English, or who don't have much of an education themselves? It is the children of these parents who I worry about.
No matter how flawed our public education system is (and it certainly is), it's still a great equalizer in this country. Free public education provides an opportunity for a lot of kids to create better lives for themselves. If I give up on the public education system, aren't I also, in a sense, giving up on those kids?
Homeschooling is a wonderful thing, but it's not an option for every family. And if every family who could home school, did home school, the kids left in the public education system would be the ones who are most at risk.
Can I justify turning down the opportunity to help maybe hundreds of kid, in order to benefit two or three (even if they are my own)? Especially when my own kids will have parents who are invested in their education, and who will provide tons of enrichment opportunities and academic help, whether homeschooling or not.
I can't help but wonder: Rather than pulling myself and my (future) kids out of the public education system, wouldn't it be better if I tried to help change it, to bring to it some of the elements that make homeschooling so great?
* *
Katie Traylor loves reading, being outdoors, children, and teaching. She's currently working in the reading classroom at an elementary school, and has her fingers crossed that next year she'll get a whole class all to herself. Born and raised in Oregon, and with very sun-burnable skin, she only lasted in California for a year. Now she lives in Northern Idaho, is considering homeschooling her future offspring, and likes riding on her fiance's motorcycle, all going to show that anything is possible. Her own blog is coming soon.