I was interested in fashion as a kid. When I was ten, my favorite outfit was tights, a giant bright green shirt with a ballet company logo (I think it belonged to my mom), and a hot pink shiny plastic belt. One of the reasons why this was by far the best outfit ever was that the belt had come from a floral-print dress I had worn on my sixth birthday, which meant that I was really shaking things up.
My dad and I had this little tradition. Every year around or on my birthday, he'd take me shopping for a birthday dress. It was the only time I got dresses, and I always picked a really girly one, with flowers and frills. The 6th year dress was especially significant, because we got it on the day I had three cavities filled. THREE. I have never had a cavity since then, which is awesome, because it was a very traumatic experience.
But the afterwards was great. I got a milkshake and a new dress with a shiny hot pink belt.
And when I matched the belt with the green shirt, I felt really creative, and like I was continuing the legacy of the dress. It was a badge of strength. And general awesomeness.
My friend Emily was more daring than me, and she wore a bikini top under overalls in the summer sometimes. It seemed scandalous. I was a little jealous. But we traded clothes constantly, so that by the time we were teenagers our closets were always half and half. Half of my stuff had once been hers. Half of her stuff had once been mine. I think we both thought we were getting the better deal every time.
In retrospect, I was incredibly lucky. So many little girls get criticized for how they look until they're too afraid to look different from their peers.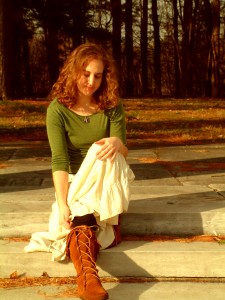 I'm trying to imagine myself wearing this on the Upper West Side of Manhattan now. It'd take some courage.
Yesterday, at Shake Shack on Columbus Ave, I saw a little girl, maybe ten or so, wearing a surprisingly stylish outfit. In fact, the twenty-something woman standing nearby was wearing an almost identical one. Just by looking at this girl, I could tell that she already knew exactly what cool was, and exactly how it looked. It's a little amazing how early on kids learn this.
By the reservoir in Central Park, a girl walked with her parents, wearing a floral print dress and big, clunky sneakers. I saw myself in her for a second. Before I'd learned that sneakers don't go with dresses. Before I'd learned that you're supposed to wear the sexy shoes that go with your outfit, even if you own more comfortable shoes.
I learned eventually, exactly what cool was and what it looked like. But I'm so glad that I had years and years of making up my own definition.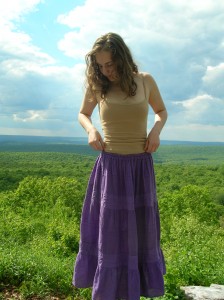 Actually, it seems like I wore long skirts all the time as a teenager, just because I thought they were pretty.It never occurred to me that I was making any sort of statement, aligning myself with any sort of group, or doing anything other than wearing clothes that I liked.
Even these days, I can't really bring myself to wear the one pair of truly sexy heels I own. They hurt too much. I prefer thrift stores to designer stores, both because I don't like to spend a lot of money on clothes and because I love the funky, open-ended appeal of creating outfits out of the unexpected and abandoned.
I'm a little jealous of my unschooled past self, because she didn't hold back. She wore whatever she wanted. I'm a little shier. I tone it down. I try not to stand out too obviously, and I gravitate away from hot pink.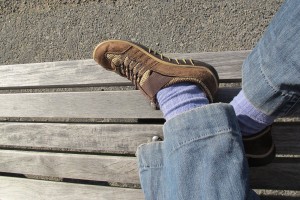 *  *  *
Two interesting articles:
This one's old, but worthwhile. It's a Newsweek piece about a fantastic book called "Escaping the Endless Adolescence."
This one is recent, from the NYTimes, and it cuts through a lot of the rhetoric and fluff around the recent parenting wars led by Amy Chua and Brian Caplan.