Daniel Petter-Lipstein's guest post from this blog got featured on Forbes! How cool is that? I feel famous by proxy.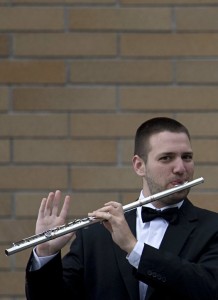 (Jake)
"I don't think homeschooling was great," my brother Jake was saying. He's twenty-one, at conservatory, about to audition for a major orchestral position (I'm sorry, I can't help it. I brag every time I talk about either one of my brothers).
"You get used to knowing things."
He was talking about college courses.
He said, "You come in knowing the basics, and then you don't listen in class, because it's boring. And then later, they get to the hard stuff, and the school kids were following along the whole time, but you weren't."
It was honestly the first time I'd heard anything like that. It's supposed to be homeschoolers who don't learn the basics, right? That's what everyone is afraid of, anyway.
"You don't learn how to memorize things," he said. "You learn to learn things. It's different. It's a problem. That's why homeschooling doesn't work."
In college, I was a bundle of anxiety. I was trying to prove myself 24/7. It's embarrassing in retrospect. (Also, I can't believe I dated the same guy for so long. What was I thinking?) Both of my brothers are handling college a lot better. They have a thousand friends. They join groups and do things with them. And their grades are not as good as mine were. So sometimes my parents use me as an example. Parents do that occasionally. It's probably not a fantastic idea, but it happens.
"Give him some advice," my mom's always saying, trying to get me to call one of my brothers with study tips.
"OK," I say to my brother. "First of all, get rid of your friends."
It's complicated.
When I went to college, I felt like everyone who knew me took a breath and held it, waiting to see how I'd perform. In reality, they probably cared a lot less than I suspected. But when I reported that I was doing well, they were a little surprised and a little impressed. "I guess homeschooling works! Look at that!"
Let me just clarify something: Whether or not homeschooling works has nothing to do with college. College is full of arbitrary measures of success and intelligence, even though it can be fun and you might happen to learn a lot. Also, "does homeschooling work?" is a question that doesn't make any sense in the first place (no offense, Jake. I really get where you're coming from). Does school work? What about being alive? Well, sometimes, I guess.
I made college "work" in a very particular way because I wanted to prove that homeschooling "worked" in a very particular way. My brothers seem to be a little smarter than me. Probably a lot.
One of my best friends is TAing a class at my favorite Ivy League school now. She came over my place, baffled and a little shell-shocked. She began to read aloud from her first stack of student papers. "Since the dawn of civilization," one started, "man has needed to have believe in things." We stared at each other. She read it again, slowly.
"F!" I said. "Oh my god. F." This kid hadn't read the assignment. He hadn't bothered with punctuation. His quotes didn't have quotation marks. He hadn't cited anything. I remembered myself in college, flicking endlessly through the MLA website. Stringing endless bibliographies together. Checking. Double checking.  I was stunned.
"I can't," she said. "Nothing below a B minus."
Welcome to grade inflation.
And guess what? It wasn't just one student. It was most of them. It was as though they had never learned to write. They had somehow never learned basic grammar. They had never learned how to make a logical argument. What happened to thesis statements and lead-ins and introductory sentences at the start of each paragraph? The stuff I'd had to learn my freshman year or be forever left behind. The stuff that seemed a little self-explanatory most of the time.
How did these kids make it to the Ivy League? How did they get into college at all? And more importantly, how did they never learn how to figure out something as basic as arguing a point in writing?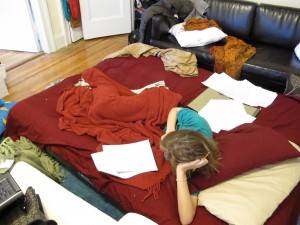 (My friend, the next day, still grading papers after sleeping on my air mattress)
"Maybe," I said, "They never had to learn how to write. Maybe they just had to learn how to write individual papers. Maybe they don't really get a chance to read."
And sure enough, their midterms, the next paper they handed in, were much better.
"If only they read," said my friend. "They'd know how to write."
"I don't think they had time," I said.
I spent my teenage years in a pretty affluent town. I remember my twelve year old students, back when I was fifteen and started tutoring. They were doing five hundred things every day. They had already taken practice SAT tests four times. I hadn't even thought of the SAT yet.  Who has time to learn how to write? Who has time to learn how to think?
I'm sorry. That was harsh.
"They do better, in the end," said Jake. "They don't know the basics, but they know how to do well."
But no one can play like you, Jake. I don't care who they are.
And he knows exactly what he wants.