I'm sensitive. I did an interview with a really famous guy yesterday and at one point he got annoyed at me for a question I asked. His tone changed. He got a little defensive. I laughed and said, "Let's move on."
I was proud of myself after. Proud because it hadn't even bothered me. Which is maybe a little embarrassing to admit. I mean, why should it have bothered me?
"I'm sensitive," I told my mom last night. We were at dinner, at Dovetail, on Columbus and 76th, which is always way too warm, but has the only alcoholic drink I've liked so far: pear cider (I'm a wimp).
She laughed. "Well, yeah." And then she told me about how I used to cry when my parents read me a book about a barking dog. The idea of the dog barking was upsetting. That is seriously sensitive. She said I used to cry, as a little kid, when someone spoke in a harsh tone to me. "Put that down, now."
My brothers were not like this, so anyone who wants to blame homeschooling for making kids soft and wimpy and namby-pamby (how is that even an expression?) can just not even start.
But I was. Namby-pamby, I mean. I was that. And a lot of people would probably say that if you have a kid like that she'd better toughen up, because the world is a tough place full of tough people and only the tough succeed. (At least I am a girl. It's much worse when you're a very sensitive boy.) People would tell the mother of a child like I was to let that child cry herself to sleep at night, until she learned to stop being such a sissy. Until she learned independence.
I would've gone to school and gotten made fun of and learned to live with it. I would've toughened up.
But that didn't happen. And so I never got particularly tough. I pretty much stayed the way I was. I mean, I got better at some things, like tying my shoes and telling time (still not my strong suit), but my nature seems basically unaltered.
"I think about stories all the time," I told my mom. "Everything is a story in my mind." (That sounds kind of cool, actually, in a freaky, Rain Man way. In reality, it's mostly distracting.)
"You always did," she said. "You told stories from the beginning."
It's weird, to have been myself from the beginning. To be able to trace my interests and habits and inclinations so far back. Shouldn't I have become something else? I get the sense that people are supposed to.
And at the same time, I love being sensitive. I love being unable to tune the world out. Being unable to stop translating the world into stories. I love being unable not to care. I love being deeply moved by corny things like mountain ranges and late afternoon light. Also, I can really, really appreciate a good milkshake. Or a slice of amazing pizza.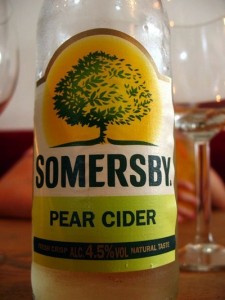 (or some pear cider, of course. source)
I'm also glad that I didn't burst into tears when the famous guy got annoyed, and start wailing, "Why are you so mean?!!" That would've been a problem. But the thing is, even when you're really sensitive, you learn when it's not worth bursting into tears. When it's not worth even one tear. Or even a moment of hurt feelings. That happens naturally, from being alive. From interacting with a lot of people. From paying attention, even when there are stories in your head.
No one needs to force you. No one needs to toughen you up. You don't really need to lose something to gain something. Sometimes you just need to leave something well enough alone.
I think that was a pretty strong conclusion.

P.S. I had absolutely no good photo ideas for this post. I'm sorry.