When I was little, I loved princesses. I couldn't stop drawing them. I wanted to read stories about them. I had a collection of fairytale books that I couldn't get enough of. I loved to dress up as a princess. I loved illustrations of princesses, especially if they were ornate and intricate and had gold detailing.
My friend Virginia writes an amazing blog called Beauty Schooled. Today she's talking about princesses. The book Cinderella Ate my Daughter came out recently. It's about how dangerous princesses can be for little girls. Virginia talks about it very eloquently, so I'll let you read her thoughts over at Beauty Schooled, rather than attempting to summarize them here.
But I do want to say this:
Making decisions about princesses can be a big deal for homeschoolers and unschoolers.
Let's say your daughter is in love with Cinderella. She wants to pretend to be Cinderella at the ball, all the time. Do you buy her the Cinderella Barbie, and the calendar, and all the plastic toys, and the original Disney film and "Cinderella's Sing-Along" and whatever else Disney has squeezed the poor princess into? It's all so easy to find. It's all pretty cheap to purchase. And now your daughter can fit in with the other little girls who are obsessed with Cinderella. If you say no, will she look weird? She already doesn't go to school. The other little girls might already be asking her, "Why don't you come to school with us?" And now they're asking her, "Why don't you have the super singer Cinderella deluxe Barbie with the hair that you can cut and style?"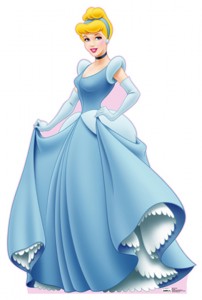 (source)
Or maybe making decisions about princesses doesn't feel like a big deal at all.
After all, you're already doing things your own way. And your daughter isn't surrounded by a ton of little girls exactly her age who all crave the same toys. So some of the pressure is off.
My mom didn't like Disney princesses. She didn't like the way they looked. She didn't like the way the princes swooped in at the very end and saved them. But she was fine with me wanting to dress up as a princess. We made princess costumes and paper crowns. Once, she let me wear full regalia to a birthday party, when I was six or so. I realized, as soon as I walked in, that it hadn't been such a great idea. But the other little girls thought my dress was very pretty, and I got over the embarrassment.
Later, when I was ten, I watched Disney film after Disney film, bleary-eyed and listless in front of my cousin's TV. I thought the princesses looked ridiculous. Their dresses were so plain. There was no gold brocade. It was all very disappointing. Also, what was wrong with their waists? Why were they so tiny? How could they even breathe? Disney had clearly gotten it wrong. Princesses were nothing like this. Princesses were like me.
My mom wasn't too worried about me fitting in.
Maybe she was too worried about Disney princesses, though. Some people are totally fine with their daughters collecting any type of princess paraphernalia they'd like. And maybe, if you're already homeschooling, Disney isn't really so much of a big deal. After all, it's not just the way the princesses look. It's all the other messages that girls receive about how to act and what to want that keep popping up everywhere they turn.
If Cinderella is just a phase, as she usually is, and the next phase is star charts or wilderness exploration, and all of that is just a part of your education, then maybe the impact of Disney is not so big and scary after all.
I don't really know. But it seems like, for unschoolers/homeschoolers at least, there might be more to the whole princess story. It is a little unfair how she got to stay out until midnight, though. I always had to be home by 11:00. My parents could have learned a thing or two from that story.