Sir Ken Robinson is really funny. Listening to him talk about education is a little like watching a comedy routine. I wish I had a British accent. If I had a British accent, I'd be so much funnier. My favorite thing about people with British accents is that they can make noises that count as words. They'll just trail of and go, "Hummghhrrawwhhj…." and that will count. It will even sound good. People with American accents can't do that. We have to use words constantly. It's very limiting.
Anyway, Sir Ken Robinson gave an amazing talk called "The Element"  for the Aspen Institute that is worth watching, if you have a free hour and are willing to sit through an incredibly long, fabulously entertaining and mostly unrelated introduction to the topic. When he eventually makes a point or two, they are awesome. He talks about how people rarely do what they love with their lives. They are rarely in their element. And that is a huge waste of human talent and potential. He talks about ADHD and compares it to the rash of tonsil removal procedures that were so popular when he was a kid.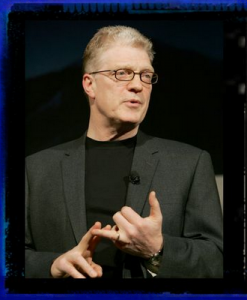 (I like him. source)
But my favorite thing that Robinson says is that the paradigm needs to change. The paradigm of school. It's broken. I believe that. And I feel nervous about saying it, because I didn't go to school. I feel like I'm not allowed to say it. So I carefully say things about how both school and, um, un-school have things going for them. I do think that. But I also think that school is, in general, a lot worse. Not because it is impossible for school to be great. But because the way school works now is so systemically, structurally, integrally flawed, that it needs a revolution.
Robinson critiques the idea of reform. Reform relies on the notion that the system, as it is,  is inherently fixable. It just needs some tweaks. It just needs some smoothing out of a few kinks. Does standardized testing count as a kink? What about dividing children into grades? These are basic sorting devices that many people who talk about these things believe the school system cannot exist without. Yet they are really pretty arbitrary. It's hard to think that something so big and so old might be arbitrary. It's disturbing. Some kids do well on standardized tests, but most do not. Most kids, despite the fact that they take tests regularly, never seem to get "good" at taking them. Social psychologists love to do experiments where they prove that when non-white kids or girls or anyone who is different in some way from the normative identity is reminded of their differences before taking a test, they do worse on it than when they aren't reminded. Some kids are reminded of their differences every day. Standardized tests don't sufficiently prove anything about intelligence, competency, or capability. They do conveniently sort children into more manageable groups.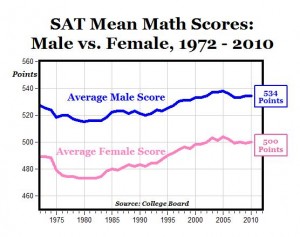 (enough already. source)
Learning in a group of children who are all the same age as you is a strange idea. Isn't it more productive to learn from people who are older, and to learn to take care of people who are younger?
And what about the subjects that determine intelligence? Where do they come from? Who decided that if you're bad at math, you're just not very smart? Why is it that the SAT emphasizes only two subjects and one of them is math? We've equated math with logic, but people can be perfectly logical without being good at math. What makes writing an essay a basic life skill?
Robinson says that because ability has been constricted into such a small space (being good at math, writing successful essays, etc), disability has grown enormously. Kids who can't sit still for long enough, or who lash out at their group of exactly-the-same-age peers, or who are incredibly bored, or who fail standardized tests routinely, are considered disabled in one way or another.
I try to be rational about this sort of thing, but honestly, it makes me furious. People are incredibly talented. We're brilliant, hilarious, fascinating, artistic, creative, inventive, and thoughtful. I've taught twelve-year-olds who had lost faith in themselves already. Who were convinced they were stupid. I've taught eight-year-olds who were mortified that they couldn't read as fluently as their peers. I've met adults who still feel stupid and untalented. Who are embarrassed because they didn't go to college. Who feel left behind. Who learned to think they weren't good at the world because they weren't good at school.
And, frankly, it's a tragedy.
We might not be able to do away completely with schools, and I wouldn't advocate for that. I don't think everyone should be homeschooled or unschooled. I don't think that's the answer. But schools need to change. More than that, they need to transform.
Because our future is at stake. Our minds are at stake. And we have so much potential.
*  *
Other amazing talks by Ken Robinson: at TED 2006, and TED 2010