My mom thought she didn't get to spend enough time with her siblings growing up. That was one of her big reasons for homeschooling us. (Read this post for another reason she homeschooled us.)
I got to spend a lot of time with my siblings. And honestly, it was great. Being with my brothers was one of the best parts of being homeschooled. I make plenty of carefully balanced arguments about the benefits and detriments of stuff like not having to do math all the time, sleeping late, focusing intensely on the arts, and wearing that skintight purple tee-shirt that said "Homeschoolers learn everywhere!" on it. But there can't be any debate about this: being with my brothers all the time was awesome.
I have two younger brothers, Jake and Gabe. Jake is three years younger than me, and Gabe is six years younger than me. They are best friends with each other. They are also friends with just about everyone else, since they both turned out gregarious, cool, and unfairly good-looking. I am without a doubt the nerdy one. Which is why I am blogging, while they go to parties. Kidding. Sort of. OK, not at all.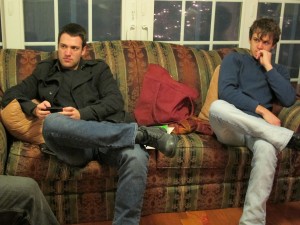 (my brothers, doing the same thing)
My mom will hate that statement. She hated it when people said, "So Kate's the artist?"
"We're all artists," she responded.
It was annoying, since clearly, I was the artist. But she's very insistent about not labeling people, especially when they're really young.
Jake and Gabe and I have always been close. We are a team. Even now, we can't keep secrets between the three of us (if Jake tells me something, I'll probably tell Gabe, and I tell Gabe something, he'll probably tell Jake), but we will guard those secrets from the rest of the world with our lives. Jake calls me from conservatory and we talk for four hours at a time. Gabe calls me from college and we talk about things I can't talk about that way with anyone else.
(cracking each other up)
As little kids, we invented alternate personalities with bizarre voices, and drove our parents insane, communicating with each other for days without breaking character. When the three of us get together, it's still kind of like that. We're weird. We're incredibly weird together. It's like being in a secret club, though, where everyone wants to be weird in order to be a part of it.
My brothers are both musicians. They play the same instrument and they studied with the same teacher. People always assumed they must hate each other for it. And occasionally they did, because, you know, they're human. But mostly they defended each other, and after every performance, they'd vouch for each other, "He was great. I didn't hear any missed notes. His tone was amazing." They toured Europe together, playing duets, backed by a chamber orchestra.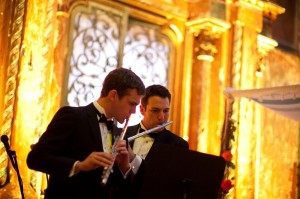 (this is them performing at my wedding)
Mom had always wanted to go to Europe. And then Jake got invited to tour. She was thrilled. When she came back, she said, "Well, I'm glad I got the chance! I'll never experience anything like that again!"
And then the next year, he soloed with another group. She tagged along. When she came back, she said, "Twice! Unbelievable."
And then Gabe and Jake were asked the next year.
My brothers have seen a lot of Europe. I have not, because I was working and couldn't go.
My brothers were child prodigies. They were always winning things. They went to classical symphony concerts and operas for fun. Tonight, actually, they're coming into the city for the second time in two weeks to see another opera at the Met. They will spend all of their money on the Met.
My brothers are exceptional, but they never seemed to want to look like intense, brilliant musicians. They wanted to look like…well, normal guys. And they did that easily and thoroughly. They played sports, worked out, and went to movies with heaps of gratuitous violence. I yelled at them for being sexist. I yelled at them for being thoughtless.
But really, they're turning out fine.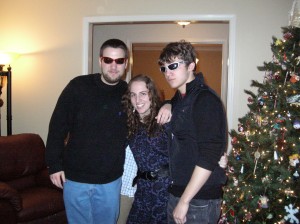 (the three of us. someone gave them ridiculous sunglasses and they are modeling them.)
My brothers are hilarious. Viciously witty, too quick to keep up with, and simultaneously warm and friendly. They're two of my favorite people. I'm astoundingly proud of them. Which is why I spent a lot of this piece bragging about them. But I can't help it. This is not a subject I can talk about in a measured tone, and I hope it never will be.
Going to school doesn't mean not getting to know your own family. It doesn't mean not becoming good friends with your siblings. But being unschooled means getting the chance to hang out with them all the time. To learn with them the way kids in school learn with their classmates. To learn with them in ways that classrooms can't really ever encompass. Being unschooled means living together during the day as well as the evening and the winter as well as the summer. Not knowing that you're supposed to be divided up into grade levels and younger kids are supposed to be boring and older kids are supposed to be off limits. Being unschooled means being in it together. Every day.
And I am so thankful that I got the chance to be with my brothers like that.